SELLING THE BENEFITS OF YOUR MAGAZINE, WEBSITE, OR SERVICE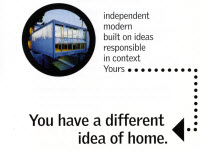 Dwell
magazine used our successful direct mail package for many years after its launch.
Once we've helped launch or revamp a publication, website, or other content-driven product, clients often ask us to help them promote it. Even if we don't start out on intimate terms with your project, as experienced content creators we can quickly size up its selling points. Then we can help you develop effective marketing strategies and specific campaigns in a variety of forms.
We developed the strategy, structure, and initial content of IeiMedia's monthly e-newsletter. (See
enlarged image
.)
We've created promotional concepts and materials, both physical and digital, for such clients as Dwell, Afar, The New England Journal of Medicine, Baker Street Publishing, We Wanted to Be Writers, Summitas, and IeiMedia, among others.
PROMOTION & MARKETING SERVICES
Names and tag lines for brands and products
Direct mail packages and promotional brochures
Prototype issues and "look books"
E-mail newsletters
Social media strategy and promotion via blogging, Twitter, Facebook, etc.
Editorially driven search engine optimization
If you would like to explore how we could help with your marketing efforts, please contact us.
See a summary list of all our services.