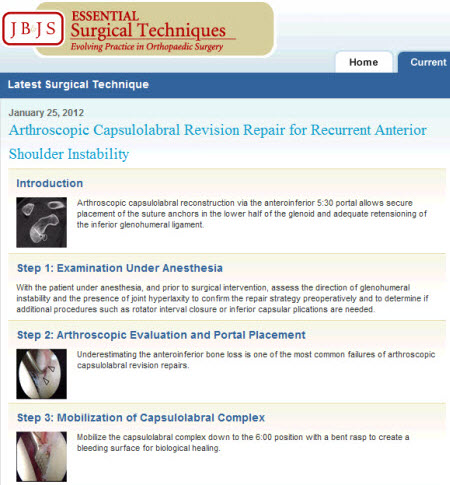 The publisher of JBJS Surgical Techniques asked us to help develop interactive, digital versions of articles from that print publication.
We created a concept and produced prototype pages demonstrating how the original material could be transformed into a set of concise, visually rich, step-by-step instructions online. We packaged the content to enable time-pressed surgeons to efficiently choose their own paths through explanations of surgical techniques.
RESULTS
The company used our mock-ups to guide digital developers who were contracted to program the new online tool.
The new online format proved so effective that the publisher decided to move ahead with plans to scale back the publication in print.
"We needed to think differently going into this relaunch — shifting from print to online demanded a modified content structure, created new options, and offered more layers. Susan and Michael quickly whipped our ideas into shape, worked well with our teams, and helped us produce a product that has proven successful and useful. What more could you ask?"
Kent Anderson
Publisher & CEO
Journal of Bone & Joint Surgery