MAPPING A PLAN, BUILDING IT OUT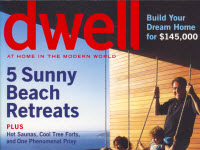 We helped launch
Dwell
, now a nationally recognized magazine of modern home design.
Do you have an idea for a new magazine, a newsletter, or a book? Do you need to build a website, dream up an app for smartphones and tablets, or create a periodic e-mail publication? As veteran launchers, we can help determine your distinctive niche, define content and presentation, set up processes and staffs, and even prepare budgets.
We advised
WW2BW
on strategy, then built a website to market the book & form a writers' community.
We've invented and launched clients' projects in a wide range of subject areas, for different target audiences, and in a variety of print and digital forms. These include the award-winning magazines Dwell, Afar, Health, and University Business as well as websites and online products for We Wanted to Be Writers, AOL's Thrive, Navigenics, Afar (corporate), and Essential Surgical Techniques.
LAUNCH SERVICES
Develop or refine your initial concept
Research audience's needs and preferences
Analyze competition
Devise a content strategy and editorial blueprint
Produce sample content and prototype
Create requirements documents and RFPs for digital developers
Evaluate and advise on proposals from vendors
Set processes and staff structure for content and production
Prepare content and production budget estimates
Promote via direct mail, e-mail, social media, search engine optimization
Recruit key staff
Advise on complementary multiplatform strategy
Editorial coaching for book authors
Low-cost, quick WordPress website launch (for hosting, we like Bluehost.com)
If you'd like to explore how we can help make your idea a reality, please get in touch.
See a summary list of all our services.