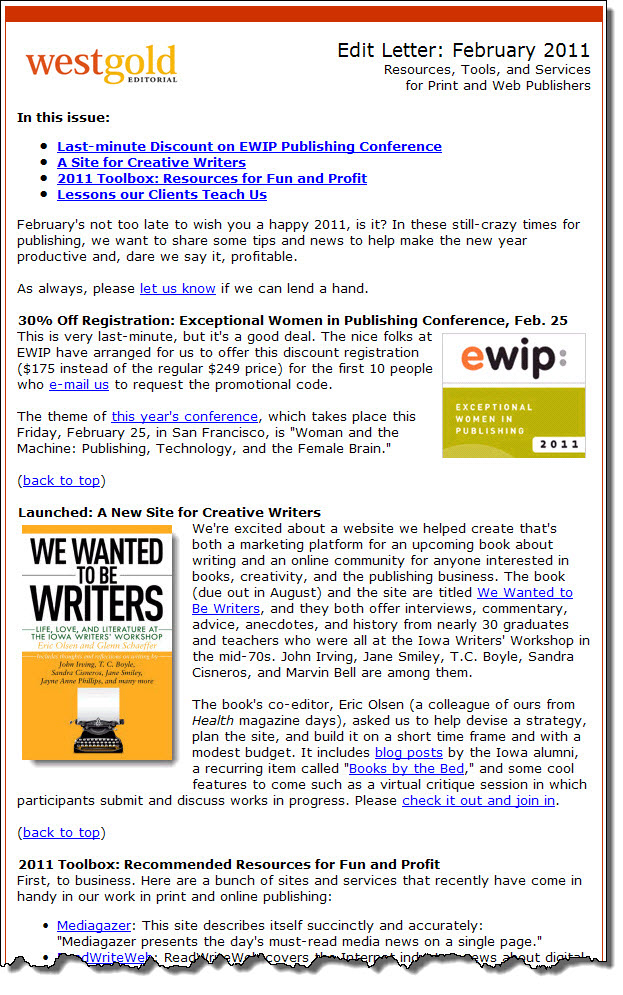 (Click on image for an enlarged view.)
Sorry, but due to a technical glitch we've temporarily suspended new sign-ups for our e-mail newsletter. That's why there is no sign-up box at the bottom of this page right now. We'll fix the problem as quick as we can. Meanwhile you can still read the description here and stay tuned.
—Michael and Susan
Every month or two we send out an e-mail newsletter—called the Edit Letter—to tell clients and colleagues about:
New resources and tools on our site
Projects we're working on that we think editors, publishers, and content creators of all types would find interesting
Workshops and talks we're presenting at upcoming conferences
Job openings we're helping to fill
Other useful news
If you'd like us to keep you in our loop, please enter your e-mail address in the box below.
(After you click on "Submit," we'll send you a quick e-mail asking you to confirm your subscription. You can also tell us a bit about yourself by choosing "manage preferences.")