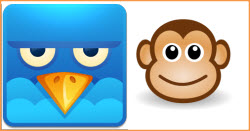 A recent post on Mediabistro's 10,000 Words blog (Should Social Media Be Taught in Journalism or Business School?) got me thinking about social media as a career for young journalists.
And then I read Mandy Jenkins's post about why she left her job as HuffPo's Social News Editor. Seems "social media editor" could be more of a dead-end job than a career path.
At some news organizations, the social media editor role is one based largely in strategy, product development, evangelization and training. In other cases, the "social media editor" is manually running a newsroom's branded social media accounts alone or as part of a small team, in a role I fondly refer to as "The Twitter Monkey"….

The truth is, I've rarely had time in the past four years to actually step back and look at the big picture of what I've been doing. You have to be able to study, research and read to be able to create and evolve social strategy. You need to have time to experiment with new tools and practices and to work on new products to engage readers. You have to be available to help others with their own social media dilemmas. All of that is very difficult to do when you're shoveling coal to power the Twitter Machine 24/7.
Jenkins isn't  a 20-something just starting out in journalism. She's an experienced editor and reporter who has worked at places like the Milwaukee Journal Sentinel and the Cincinnati Enquirer. She moved into social media as a natural evolution in her career. And then it looked like there was no next step.
It used to be you could start as a copyeditor, reporter or web producer and eventually (with good work) move up to be a mid-level editor, then an editor, then a director and so on. There was a system. The social media specialist, as a fairly new role, often isn't in that system (from my anecdotal evidence-gathering). Their skills, while useful for their purposes, may not be likely to translate into larger digital roles in the minds of top level managers.

I can't tell you how many times in my career I've expressed interest in jobs outside of social media – in content editing, digital management, news editor-type jobs, and been rebuffed with "but your experience seems to be in social media". Lucky for me, I had a career before social media – and I've managed to do enough outside of my Twitter monkeying to keep those skills sharp.

Long story short, I was afraid I would be forever branded a "Social Media Person" – and then wouldn't even be able to be hired for those existing social media positions, anyway.
So Jenkins is returning to her "local journalism roots" with Digital First Media, owner of local-news outlets across the country.
Jenkins managed to escape the Twitter Monkey treadmill for something with more of a future. Social media skill is a must-have for newly minted journalists. But let's make sure they cultivate other abilities (such as these basics from my alma mater) so they can keep their options open.
(Be sure to read Jenkins's full post, as well as the thoughtful comments.)